| | |
| --- | --- |
| Wire Winding | Home 4 Previous Machines4 Wire Winding |
  Machine Category: AUTOMATIC
<![if !vml]>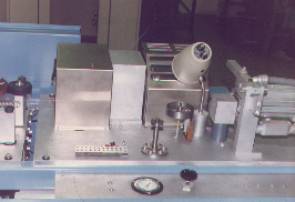 <![endif]>The Wire Winding machine winds resistance wire around a core wire at a programmable pitch. The machine checks resistance in 6" segments and adjusts the pitch to achieve the nominal resistance. This machine also does non-linear functions. It has the capability to read a programmable table and wind at different pitches to achieve a non-linear resistance curve. The machine checks the resistance of the 6" segments against tolerances and will either accept or reject the segment. The Helix Cut will cut out that segment of the wire.
<![if !vml]>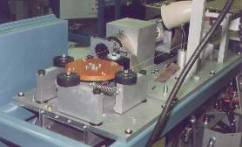 <![endif]> <![if !vml]>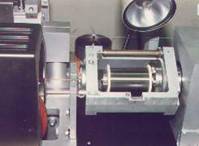 <![endif]>
Machine Specifications
Machine Cycle Time

max 37Mil and 6000rpm

Nest Positions

N/A

Standard Stations Include

Wire Straiten

Winding Head

Metering Wheel

Oven

Helix Cut

Total Stations

5 Standard Stations

Index Drive Type

N/A

Air Requirement

60psi

Electrical Requirements

120VAC, 60Hz, x Amps

Special Requirements

None

Expected Run Time

Two 8 hour shifts per day

Load Machine Via

-Core Wire Spool

-Resistance wire spool

Unload Machine Via

-Helix Coiler

Safety Features

-Guards around critical moving parts.

Extra Options

-2nd Heater

-Non-Linear Functions Software and Hardware
Approximate Machine Price:  $350,000
<![if !vml]>

<![endif]> If you are interested in a machine of this type, please call (310) 325 0463 or E-Mail sales@solatron.com with your requirements.
NOTE: All options listed above can be modified to fit your specific application. Above options are some of the most commonly used.