| | |
| --- | --- |
| Servo Turntable | Home 4 Previous Machines4 Servo Turntable |
  Machine Category: MANUAL
<![if !vml]>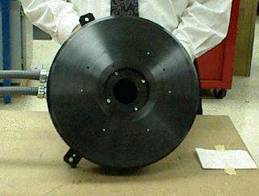 <![endif]>The Servo Turntable machine is a simple turntable with a control panel. The computer in the control panel reads a user made program file that rotates the turntable to specific angles and turn water cutting jets on and off to make a product. To the right is a picture of the turntable and the control panel (below) which make up this machine. This Servo table is intended to be integrated into another machine.
Machine Specifications
Machine Cycle Time

Different per user program

Nest Positions

N/A

Standard Stations Include

Control Panel

Table

Total Stations

2 Standard Stations

Index Drive Type

Servo controlled Belt Pulley Assembly

Air Requirement

60psi

Electrical Requirements

120VAC, 60Hz, x Amps

Special Requirements

N/A

Expected Run Time

Two 8 hour shifts per day

Load Machine Via

Operator

Unload Machine Via

Operator

Safety Features

-Emergency stop feature.

Extra Options

N/A
Approximate Machine Price:  $70,000
<![if !vml]>

<![endif]> If you are interested in a machine of this type, please call (310) 325 0463 or E-Mail sales@solatron.com with your requirements.
NOTE: All options listed above can be modified to fit your specific application. Above options are some of the most commonly used.