| | |
| --- | --- |
| Powder Loader | Home 4 Previous Machines4 Powder Loader |
† Machine Category: FULLY AUTOMATIC
<![if !vml]>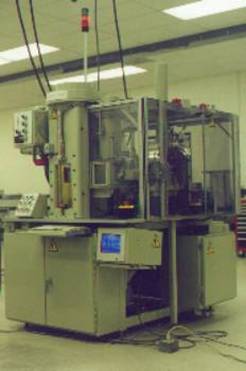 <![endif]>
† Our Powder Loading machines usually consists of several stations which are around a servo driven rotary table. Among these many individual stations is the Press Station which consolidates powder to a specific height and force. These press stations have barricades attached to them to keep the powder in for operator safety. Below is a picture of one of the most recent powder loaders we have designed and built. This machine includes two press stations, a load station, unload station, three height test stations, a part color verification station, resistance stations as well as a Thermal Transient Test station. The powder shown and specified here takes the place of two machines (Ignition Powder Loader and Output Powder Loader) Both Caps and Headers are loaded onto one rotary table and are assembled at the Ultrasonic weld station. The final product is unloaded off of the machine.
†† We also have built the ignition and output processí into separate machines or on the same machine but with 2 rotary tables.
This machine features the unique Servo compression technology. The powder press device is software selectable between the conventional pneumatic cylinder which compacts the powder to a set height, or precision servo drive which compacts the powder to an exact force.
<![if !vml]>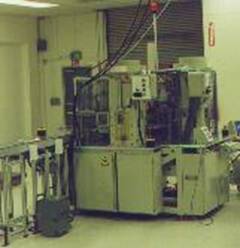 <![endif]> <![if !vml]>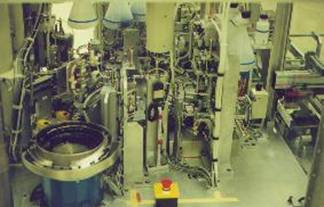 <![endif]>
Machine Specifications
Machine Cycle Time

Aprox. 2.5 sec. per part

Nest Positions

24 or 12 Nests on circular Index Table

Standard Stations Include

Header Load

Cap Load

Ignition Powder Load

Ignition Height Test

Output Powder Load

Output Height Test

Color Detect

Ultrasonic Weld (Cap to† Header, use in plastic initiator assemblies)

Final Height

Thermal Transient Test

Unload

Total Stations

11 Standard Stations

Index Drive Type

Solatron Tire Indexer

Air Requirement

60psi

Electrical Requirements

120VAC, 60Hz, x Amps

Special Requirements

Barricade Stack(s)

Expected Run Time

Two 8 hour shifts per day

Load Machine Via

-Pallets on XY Table or

-Vibratory Bowl

Unload Machine Via

-Pallets on XY Table or

-Vibratory Track (to feed another machine)

Safety Features

-Lexan machine guards built to withstand explosive blast. Key switch provided for enable/disabling the guards.

-Solatron Tire Index Drive for break-away indexing should an object get stuck in index dial.

-Emergency stop feature.

-Explosion-proof barricade to hold explosive powder.

-Refill chamber to seclude operator from direct exposure to main powder chamber with automatic fill sequence.

Extra Options

1. Ignition and Output powder loader (as listed above)

2. Two Separate loaders
Approximate Machine Price: ††$580,000
Ignition Loader Only:††††††††††††††† $300,000
Output Loader Only:†††††††††††††††† $300,000
<![if !vml]>

<![endif]>If you are interested in a machine of this type, please call (310) 325-0463 or E-Mail sales@solatron.com with your requirements.
NOTE: All options listed above can be modified to fit your specific application. Above options are some of the most commonly used. Price reflects common components.