| | |
| --- | --- |
| Bridge Wire Welder | Home 4 Previous Machines4 Bridge Wire Welder |
† Machine Category: FULLY AUTOMATIC
<![if !vml]>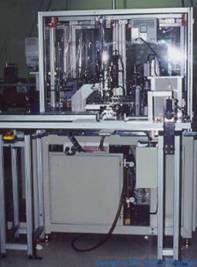 <![endif]>Solatron Enterprises is famous for itsí Bridgewire Welding technology. During the past 20 years this technology has been used mostly on the Initiator Bridgewire Welding Machines. These machines consists of several stations, including a Dual- Weld station (see below), which are mounted around a servo driven rotary table. The length of the bridge is automatically adjusted using the average of the resistance readings from the parts it has produced. Vision systems (on select machines) has also been used to adjust the length as well as the position of the Bridgewire.
Our weld heads are designed to produce Bridgewires that are very precise and repeatable in regards to their length and the position of the weld.
<![if !vml]>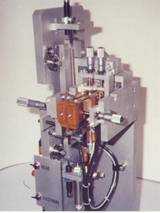 <![endif]> <![if !vml]>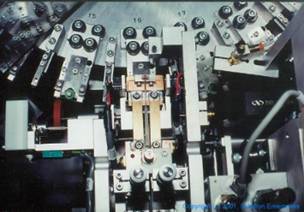 <![endif]>
Dual Weld Head Fully Automatic Machine
Semi-Automated Bridgewire Welder
<![if !vml]>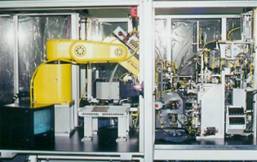 <![endif]> <![if !vml]>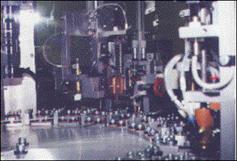 <![endif]>
Machine Specifications
Machine Cycle Time

Aprox. 2.5 sec. per part

Nest Positions

24 Nests on circular Index Table

Standard Stations Include

Load

Wire Load

Alcohol Dispense

Bridge-wire Weld

Wire Removal

Resistance Test

Unload

Total Stations

7 Standard Stations

Index Drive Type

Solatron Tire Indexer

Air Requirement

60psi

Electrical Requirements

120VAC, 60Hz, x Amps

Special Requirements

None

Expected Run Time

Two 8 hour shifts per day

Load Machine Via

-Pallets on XY Table or

-Vibratory Bowl

Unload Machine Via

-Pallets on XY Table or

-Vibratory Track (to feed another machine)

Safety Features

-Lexan or Light Curtain machine guards. Key switch provided for enable/disabling the guards.

-Solatron Tire Index Drive for break-away indexing should an object get stuck in index dial.

-Emergency stop feature.

Extra Options

Vision System to adjust weld head for precise welds.
Approximate Machine Price: †$300,000
<![if !vml]>
<![endif]>†If you are interested in a machine of this type, please call (310) 325 0463 or E-Mail sales@solatron.com with your requirements.
NOTE: All options listed above can be modified to fit your specific application. Above options are some of the most commonly used. Price reflects common components.